Sports Chiropractic
Available at all four locations Wentzville, O'Fallon, St Peters and Hannibal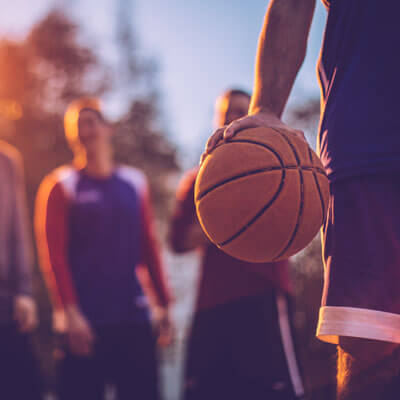 Back Pain Center specializes in musculoskeletal care for all athletes. We have treated those from the professional level, youth, and weekend warriors alike. Our tailored care will help you or your young athlete overcome injury quickly, avoid future injury, and improve athletic performance.
Why Should an Athlete See a Chiropractor?
Athletes constantly abuse their bodies in competition. Chiropractic helps ease the musculoskeletal pain, which can limit an athlete's ability to compete at their best. Along with pain management, chiropractic will help their joints and muscles operate at their highest capacity, with improved joint mobility and a rehab focus on joint centration (optimal positioning of a joint).
Frequently Asked Questions
Do you see athletes of all ages?
Yes, we have provided care for ones across the spectrum, from high school and collegiate athletes to adult runners, CrossFitters, cyclists, and weekend warriors.
What are the most common types of sports injuries you see?
Sprains, strains, knee injuries, plantar fasciitis, golfer's/tennis elbow, and shin splints are common injuries for which patients seek our care.
Could chiropractic help reduce my dependence on pain medication?
Yes. If you are dependent on OTC or prescription painkillers and would like a natural approach to pain relief, you should consider chiropractic care.
Can seeing a chiropractor help stave off an injury?
With improved joint mobility, muscle tension and stabilizing strategies, athletes will be much more prepared to compete at a high level and minimize the risk of injury.
How can you help someone once they are injured?
Back Pain Center
strives to take our athletes from injury to athletic performance. We will guide you through every step of the process, starting with pain management, then improving joint mobility, core and extremity stabilization, and finally generating strength and power to return to play quickly. It is our mission to get you performing back on the field of competition with as little time missed as possible.
Book an Appointment
Whether you're seeking to boost your performance, get out of pain or heal quickly so you can return to your favorite sport, we want to help you achieve your goals. Call today to book a convenient appointment!

Sports Chiropractic Wentzville, O'Fallon, St Peters and Hannibal MO | (636) 978-5511