Myofascial Release Therapy
Available at all four locations Wentzville, O'Fallon, St Peters and Hannibal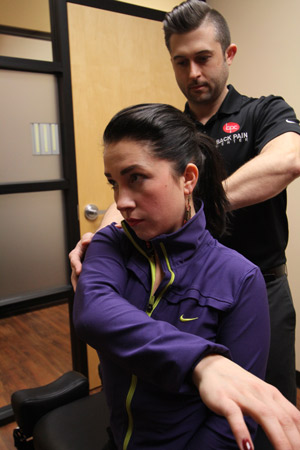 Active Release Techniques (A.R.T.) is a state of the art soft tissue treatment technique that is growing exponentially in popularity due to its amazing success in the treatment of soft tissue injuries.
Active Release Technique is patented in order to assure that only those practitioners with the highest level of skill and knowledge are able to say that they are certified.
How Active Release Techniques Help
Dr. Nicholson is a full body certified Active Release Techniques provider in O'Fallon MO. Through A.R.T., Dr. Nicholson is able to focus on the soft tissues located within and around the spine. Active Release Techniques treats and resolves many conditions, including but not limited to:
Carpal Tunnel Syndrome
Plantar Fasciitis
Elbow tendonitis (golfer's elbow, tennis elbow)
Shoulder/rotator cuff pain
Hip, knee and ankle pain
Neck and back pain, including hip flexors
For more information on Active Release Techniques please visit www.activerelease.com.
Get Started Today

For more information or to schedule a consultation with Dr. Nicholson, contact our office today!
CONTACT US »

Active Release Wentzville, O'Fallon, St Peters and Hannibal MO | (636) 978-5511