Neck Pain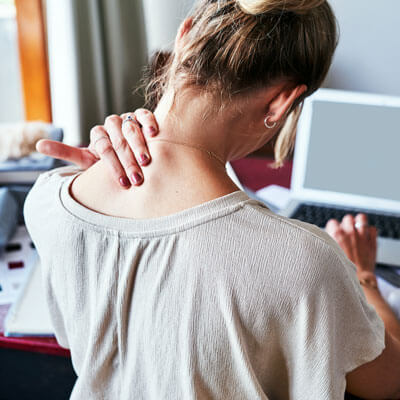 Without a doubt, neck pain is one of the most common complaints we see at our practice. Looking downward at digital devices such as phones and laptops, causes significant compressive force at the base of the cervical spine that causes major problems such as "tech neck."
A lot of times cervical conditions don't present at the office as neck problems; instead, they present as shoulder blade issues. That's why our job is to be excellent diagnosticians upfront to figure out the cause and origin of the tissue that's triggering your pain.
Symptoms
Signs and symptoms of neck discomfort include muscle tightness and spasms, a decreased ability to move your head, and headache.
Common Causes
Because your neck is flexible and supports the weight of your head, it's susceptible to injuries and conditions that result in pain and restricted motion. Here are some of the most common causes of neck discomfort:
Muscle strains
Worn joints
Nerve compression
Injuries
Our Natural Approach
We'll recommend removing any lifestyle choices, habits, and positioning ergonomics that are producing neck pain. Then we work with patients to show them how to change their form and workstation to be more ergonomically friendly.
Sometimes we also adjust, and sometimes we don't. We also do a lot of myofascial and muscle work, along with dry needling and exercises. The McKenzie Method® is also effective; this technique helps reduce joint pain or nerve pain coming from your neck.
I decided to call Back Pain Center after having headaches and neck pain for a month and am very thankful that I did. I tried pain relievers and muscle relaxers with no relief. I am surprised that after only 5 visits I no longer have the headaches and neck pain. The staff and Dr. Johnnie were very efficient and pleasant. Dr. Johnnie is a doctor that you can trust. – Norma B.
Frequently Asked Questions
Will I have to have my neck adjusted manually?
No, we can use gentle, instrument-assisted adjustments to relieve your discomfort.
What other things can I do to get relief?
We also recommend you adopt proper posture, avoid looking down at your smartphone or tablet, and sleep in a proper position.
Book an Appointment
If you have neck discomfort, we want to help. Contact us today to schedule an appointment!

Neck Pain Treatment Back Pain Center | (636) 856-1260