Massage Therapy
Available at our Wentzville and O'Fallon locations.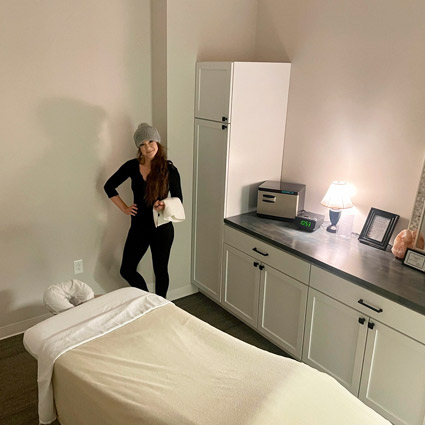 At Back Pain Center, we're not a massage chain and we don't act like one. Our prices are per massage and they don't change. You will get an excellent, effective massage every time. And unlike a big box chain, you won't have to wonder about what therapist will see you.
Think Therapeutic, Not Spa-like
When you think massage, images of a spa-like environment may come to mind. At Back Pain Center, however, we're not a spa; we provide therapeutic massage. It's our goal to help you feel great. The therapists at our practice are each highly trained and specialize in deep tissue and sports massage. We encourage our patients to get to know our therapists, who want to partner with you to get you out of pain and on your way to feeling great.
You don't have to be a chiropractic patient to get massage at the practice. Some patients may find that, though they like chiropractic, they respond better to massage.
Discover Help for Chronic Pain
The types of massage we offer are ideal for many different chronic pain syndromes. Massage is an excellent complement to joint treatment. For example, if a patient has a particular area of pain that is too large to treat with Active Release® Technique then one of our therapists can help with the muscle release work that complements our treatment. Massage is also an excellent way to ensure that the tissues are moving properly.
Massage is ideal for
Prep before a sporting event
Recovery after the event
Muscle tension
Inflammation reduction
Increase range of motion
Experience Prenatal Massage in Wentzville
While one of the most exciting times in a woman's life, pregnancy can also be one of the most physically uncomfortable periods. Our therapists are certified in prenatal massage to help you experience a healthier, more comfortable pregnancy. They can work with you after the first trimester.
Therapeutic massage provides a range of benefits to help you feel great! Contact our office today to schedule an appointment with one of our therapists.
CONTACT US »

Massage Therapy Wentzville, O'Fallon, and Hannibal MO | (636) 978-5511