About Back Pain Center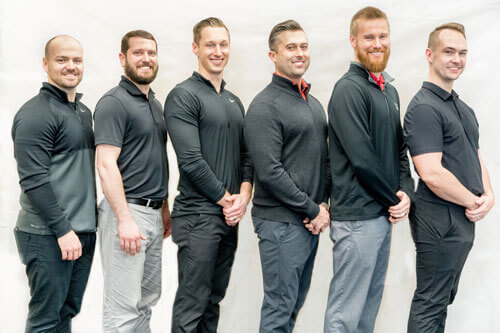 Our Philosophy
When patients choose us for their chiropractic care and natural health services, we like to make sure we get one thing across from the start-when you choose us, we put your needs first and aim to get you the care you need-no more and no less.
Our practice places an extreme emphasis on properly diagnosing patients and using research backed techniques to get them out of pain and into health. After you're feeling better, our next goal is to keep you feeling better, working to prevent future issues than may occur.
Simply put, we see it as our job to help people, plain and simple.
Discover and Diagnosis
At Back Pain Center, there are two crucial keys to your care-discovering what's going on in your body and diagnosing what exactly is causing it. Using advanced diagnostic tools including ultrasound scans, we're confident that we can achieve both accurately.
What does this mean for you?
You won't be given the run around. Your care will be honest and effective. And most importantly, you won't have to "deal" with your pain any longer.
Our entire team will be here for you every step of the way-that's a promise.
Who We Help
We're proud to welcome patients of all walks of life into our care, from children to seniors and everyone in between. When you visit us, we'll let you know if we believe you can benefit from our care-if we think you'd be a better fit for a different specialty, we'll happily refer you to a trusted practitioner outside of our care because we want the best for you!
What an awesome experience! Thank you for listening to my concerns!

I was pleasantly pleased with the amount of time that was spent and the relief I got afterwards. Thank you!

I love that I was given exercises to take home so I don't have to spend all of my days in an office being adjusted.

I was super impressed with the level of care I received. Very informative doctor and friendly staff – so grateful I found this team! Thank you!

Everyone was very professional and polite. Made me feel at ease and listened to my concerns and issues. A great experience overall. I would highly recommend.

Extremely friendly and made me feel comfortable! Never questioned anything. I felt wonderful after leaving. Overall great experience!

I really had a great experience. My pain is gone!

Dr. John and Brandy were absolutely amazing and I cant wait to come back to see them! They were both so incredibly helpful with my neck issues and made me feel like a million bucks by the time I left.

Professional and friendly staff! I liked that the treatment plan included preventative measures as well as immediate action steps. They truly care about my overall health and well-being!

My visit went very well and I learned a lot that no other chiropractor has taken the time to explain to me.

Your receptionist was very professional and friendly. That made me feel comfortable. Dr. Brinker really listened and pin-pointed the issues I've been having with neck/shoulder pain.

You are all amazing! Thank you for everything.

I had a great visit/learning experience to keep my back stretched and pain free. I look forward to my next appointment to check my progress. Thanks Doc..!!!

Thank you for all being so wonderful!! Very impressed with everything!

Exceptional. I would recommend anyone to come here.
Learn More Today
Ready to get your health back on track with a focused care plan? We can't wait to welcome you to our practice and learn more about your goals in life and health. Get started today by booking your visit with us-we happily accept most major insurance plans!

About Back Pain Center | Back Pain Center