NormaTec Recovery System in O'Fallon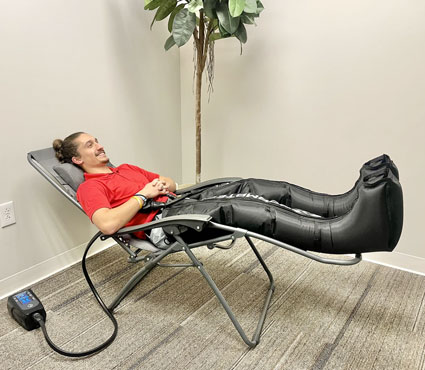 If you're an athlete looking for the best way to recover from a vigorous workout, we offer the NormaTec Pulse 2.0 Leg Recovery System here at Back Pain Center. This revolutionary leg recovery system is designed to help athletes get back into peak performance shape with patented dynamic compression massage technology that can help restore movement and flexibility in your legs after rigorous physical activity.
How It Works
The NormaTec Pulse 2.0 Leg Recovery System uses dynamic compression massage technology to provide a pulse-like sensation that helps restore your legs after a tough workout or competition. This type of massage technology can target specific areas of the body, helping reduce soreness and improve circulation throughout the affected area. Additionally, this system is designed to be adjustable so that it can accommodate athletes of all sizes and shapes while still providing maximum results.
What Are the Benefits?
There are many benefits associated with using the NormaTec Pulse 2.0 Leg Recovery System, but one of the primary advantages is its ability to help athletes quickly recover from intense workouts and competitions by increasing circulation in their legs and reducing soreness and fatigue.
With regular use, you can expect an increase in your overall performance, as well as significant improvements in mobility, range of motion, flexibility, power output, and stamina. In addition, this system has also been shown to reduce lactic acid buildup in muscles, which can lead to improved muscle recovery time following strenuous activity.
Frequently Asked Questions
Session times and frequency will vary based on your needs.
Is there anyone who can't have the therapy?
Do not use or consult a physician if you are experiencing any of the
following:
Acute pulmonary edema
Acute thrombophlebitis
Acute congestive cardiac failure
Acute infections
Deep vein thrombosis (DVT)
Episodes of pulmonary embolism
Infection, tumors, wounds, or lesions at or near the site of application
Where increased venous and lymphatic return is detrimental
Bone fractures or dislocations at or near the site of application
Session times vary depending on the patient's needs, but generally last anywhere from 10-30 minutes.
Book an Appointment
Discover how the NormaTec Pulse 2.0 Leg Recovery System could help you recover faster and better. Call today to book an appointment!

Normatec Recovery System O'Fallon MO | (636) 978-5511