Meet Dr. Ryan Brinker
Chiropractic Education and Training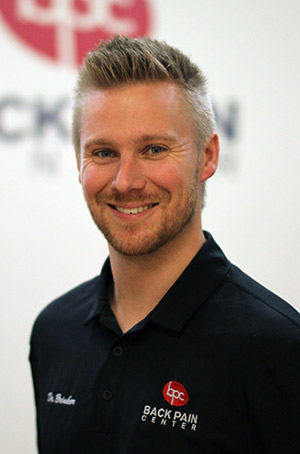 Dr. Ryan Brinker is a board certified Chiropractic Physician who graduated from Logan College of Chiropractic. While at Logan, Dr. Brinker worked for the Biofreeze Sports & Rehabilitation Clinic where he had the opportunity to work with paraquad athletes, local track and field clubs and the University of Missouri Athletics Department.
Before attending Logan, Dr. Brinker received his bachelor's degree in athletic training from Lindenwood University. While there, he had extensive coursework in the prevention, treatment and rehabilitation of athletic injuries ranging from middle school athletes to members of the St. Louis Rams. Dr. Brinker also competed on the track and field team at Lindenwood University where he earned two All-American Awards and his team won two National Championships.
Approach to Care
Dr. Brinker uses a case-by-case approach to find the underlying dysfunction and create a custom treatment plan for each patient. Functional movement screening, soft tissue treatment, chiropractic adjustments, and rehabilitation exercises all help to create a multifaceted approach to treating the true origin of the symptoms and not just the site of pain.
EXPLORE OUR SERVICES »

Thanks to Dr. Brinker for helping me get back to running quickly! What I thought was a muscle issue, turned out it was a nerve issue and he diagnosed it quickly and efficiently!

Always a great experience at the BPC. Ryan has always given me a quick but thorough diagnosis. Will always refer friends and family here for their diagnosis and rehab.

Very impressed with Dr Brinker. He listened to every detail, explained everything in detail, and reassured me. Felt great. He just returned a phone call stating again what he had already explained. I have already recommended him to another PT patient and will continue to do so.

I saw Dr. Brinker yesterday for the first time and today was the first morning that j woke up pain free! I'm so happy that I was referred here! Such a beautiful office, professional, kind staff, and amazing care!

I went in the front door barely able to walk with excruciating back pain. Ryan assessed my situation neurologically. After showing me how to do 2 easy exercises, I walked out pain free. Amazing experience! Now following his instructions to continue the exercises. I will return in 2 days for a recheck.

We are so happy that we were referred to Dr. Brinker. Our first experience was amazing. My daughter was thrilled to find relief for her injury.

A good listener. Did not push extra services that were not needed.

Dr. Ryan Brinker got me quickly on the road to returning to full marathon training after the first visit without the need to completely shut it down. Awesome.

Dr. Brinker and the residents that he had with him that day were excellent! I felt like they listened carefully to me as I have been to pain management and physical therapy with no relief. I am hopeful that we are on the right track to pain relief!

I've only been to two visits but I am extremely hopeful that Dr Brinker is going to finally fix my back pain. After years of pain and discomfort and seeing other chiropractors, I am confident I am finally where I need to be and seeing the right person to get results.

Dr. Brinker is a Rockstar!

Dr. Brinker was efficient, clear and informative. I will be returning and recommending to others

Glad to have been referred to Dr. Ryan. Very charismatic and easy to relate to. Ryan was sincere and confident about his skills.

I really feel confident the treatment will resolve my problem. Great knowledgeable staff, Dr. Brinker is such a fine young man

Dr. Brinker was amazing with our 10 month old. He was so personable and really listened to us and offered great advice. He had a detailed plan and took his time explaining everything. I would highly recommend Dr. Brinker!

It was a great experience and Dr. Brinker and his interns were super!

Dr. Brinker is first rate and very professional in his approach!
Outside the Office
While out of the office, Dr. Brinker enjoys spending time with friends and family, as well as volunteering with his wife, Danielle, as St. Jude Heroes where they run to support St. Jude Children's Research Hospital. His hobbies include golfing, running, hunting, and keeping up to date on the newest treatment protocols.
Ready to get started? Contact us today!

Dr. Ryan Brinker | (636) 978-5511