Meet Dr. John Moore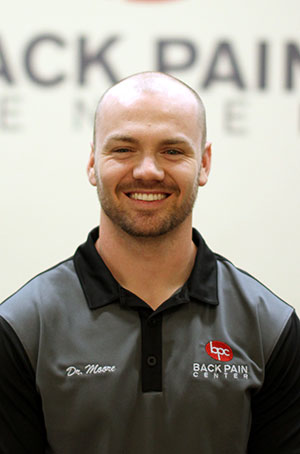 Chiropractic Education
Dr. John Moore grew up locally in O'Fallon MO. He received his doctorate degree at Logan University after receiving his degree in biology from Saint Louis University. During his time at SLU, he excelled at ice hockey, playing four years on the ice hockey team. While at Logan University, Dr. Moore was president of the Motion Palpation Institute club (MPI), where he learned to not only teach a dynamic assessment for joint dysfunction of the spine and extremities, but also manipulations for each of the corresponding joint dysfunctions.
Dr. Moore utilizes this dynamic approach in his practice along with incorporating the appropriate corrective exercises to improve patients' movement dysfunction. He also utilizes developmental kinesiology to provide the correct exercises to address dysfunction in the body. His main objective is to improve patients' overall movement, because the prerequisite for living an active pain-free life is the ability to first move well!
EXPLORE OUR SERVICES »

I appreciate the doctor taking the time to conduct a thorough exam and explain his observations and the recommended exercises.

Great experience! Dr. John Moore was awesome and very helpful!

I was extremely satisfied with my first visit! Dr John Moore made me feel comfortable and addressed all my issues! I felt comfortable with everything he did and he was very gentle! I will definitely continue to see Dr. John Moore!! Thank you for helping me!

I made an appointment due to neck pain. Dr. Moore was so helpful and knowledgeable! He genuinely listened to my symptoms, alleviated my neck pain through multiple approaches, and provided great tips for things I could do at home to keep the pain away. Excellent care from start to finish.

I am excited to finally have found a chiropractor that takes time and is willing to listen and work through problems.

Dr. John Moore was attentive to my needs and helped me with my back pain.

Dr. Moore was very helpful and you have a very good receptionist too!

Love it there! They listen and then use their vast knowledge and experience to come up with solutions. I know everyone has different health issues but I saw immediate results.

My lower back pain was terrible and after the first visit, I felt relief!

Dr John Moore explained the whole process of the visit and was so thorough! Very intelligent and experienced! I will be back!

Doctor John Moore was great. I would highly recommend

Dr. John Moore is a wizard and I can't wait to have my body feeling better than ever!

This was my first visit with a chiropractor & I was a little nervous, but John was very helpful and knowledgeable! More importantly, my pain has decreased significantly since my appointment. I will be back!

Dr John Moore explained the whole process of the visit and was so thorough! Very intelligent and experienced! I will be back!

Dr. Moore is amazing. He took the time to listen to my issues and even was able to diagnose me after having the issues that I have for over 15 years. I would highly recommend him to anyone that has back pain and wants a doctor who listens, understands and actually wants to help fix it. Thank you!

Dr. John Moore is a wizard and I can't wait to have my body feeling better than ever!

Dr. John Moore was amazing and very encouraging!

Dr. JoMo is great! Very understanding and helpful in explaining how the body works and what it needs to get back to 100%!

Loved Dr. Moore. Super knowledgeable and caring.

Dr. John was great! He took plenty of time to make sure I understood the movements and breathing techniques that I should be practicing, and he listened to all my concerns.

Dr. John Moore spent a lot of time with me and is very sincere about improving my quality of life. I have some improvement and feel I will get even better.

I was able to make an appt on the same day I called. I have been a patient at The Back Pain Center and the staff at the desk remembered me from over a year ago. Dr Moore was great! I was so glad I could get in before I was heading out of town for a few days.

I felt like he really listened to me and was compassionate about fixing my pain!
Outside the Office
Dr. Moore has a love for St. Louis sports, and enjoys playing golf, softball, and hockey. More than anything, he values spending time with his beautiful wife, Katherine, their son James and their dog, Charlotte.
Ready to get started? Contact us today!

Dr. John Moore | (636) 978-5511