Meet Dr. Aaron Welk
A Special Interest in Radiology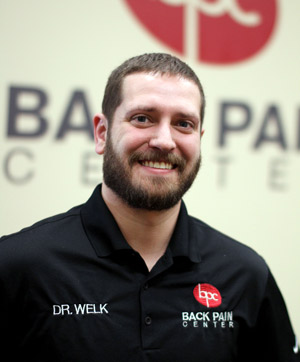 Dr. Aaron Welk is a 2009 graduate of Logan College of Chiropractic. He went on to complete an additional 4.5 years of Residency and Fellowship training in the Logan University Department of Radiology, earning board certification in Chiropractic Radiology in 2013. Dr. Welk enjoys working with athletes and has had the opportunity to work with patients ranging from youth athletes, to weekend warriors, to All-Star professional athletes.
Through the course of his radiology training he has enjoyed the opportunity to examine patients ranging from weekend warriors to All-Star professional athletes.
Using Ultrasound for Quick & Accurate Diagnoses
Dr. Welk specializes in performing diagnostic ultrasound examinations. Diagnostic ultrasound imaging provides cost-effective, non-invasive assessment of muscle, tendon, ligament, and nerve injury. In addition, diagnostic ultrasound allows dynamic evaluation of patients for the detection of specific "positional" injuries.
Ultrasound imaging can often be utilized in place of more costly examinations such as MRI, depending on the type of injury. With a background in chiropractic treatment, Dr. Welk takes a functional approach to imaging to provide the most accurate information to the treating physicians.
EXPLORE OUR SERVICES »

Outside of the office
Dr. Welk works as adjunct faculty in the Logan University Department of Radiology assisting with radiology resident training and teaches weekend continuing education seminars for chiropractors. He also enjoys spending time with his family, running, and golfing.
Contact us today to find out how Dr. Welk can utilize diagnostic ultrasound to help you get the right diagnosis.

Dr. Aaron Welk | (636) 978-5511