Meet Dr. Mitchell Sutter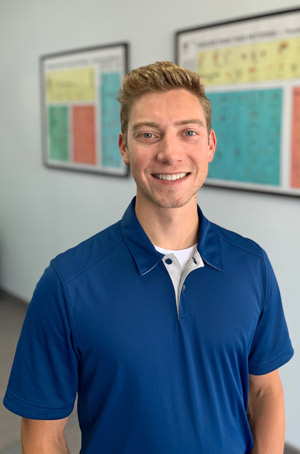 As an avid athlete, Dr. Sutter is particularly passionate about helping other athletes perform at their highest potential. "Chiropractic can help prevent injuries, improve strength, boost sports performance, increase flexibility, and more," he said.
Education and Professional Development
Dr. Sutter graduated from Truman State University with his bachelor's in 2017. He then attended Logan University and earned his Doctor of Chiropractic in 2019. Dr. Sutter has additional training in dry needling, McKenzie A Method, Selective Functional Movement Assessment (SFMA) and Dynamic Neuromuscular Stabilization (DNS) A and B.
To stay abreast of the latest in the field, Dr. Sutter has taken continuing education courses in the following:
DNS
McKenzie Method (MDT)
Selective Functional Movement Assessment (SFMA)
Enjoying an Active Life
Outside the practice, Dr. Sutter likes running, hunting, fishing, golfing, and exercising. He also loves spending time with his wife, Ashley, and playing with his dogs, Toby and Murphy.
Contact us today to schedule an appointment with Dr. Sutter!

Dr. Mitchell Sutter | (573)-248-1393