Meet Dr. Matthew Nicholson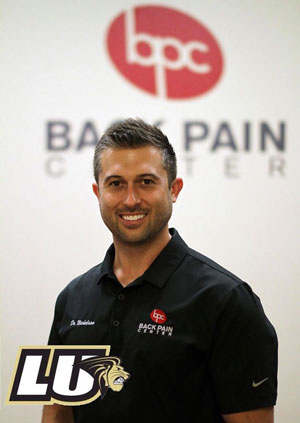 I wanted to build something that I believed in so much, I knew I could send my own family there.
As a Wentzville chiropractor, Dr. Nicholson wanted nothing more than to create a safe space for patients to get well and stay well, without any of the "runaround".
Now, with two locations under his belt, Back Pain Center is proud to serve those young and old, helping them get well and stay well for the long term.
An Education in Chiropractic
Dr. Nicholson attended the renowned Logan College of Chiropractic, graduating in 2009. In addition to his chiropractic schooling, he's continued to pursue additional training, receiving certification in Full Body Active Release Technique and as a certified IRONMAN provider. There's nothing he wants more than the best for his patients-and he believes that with focus and research-backed techniques, he can achieve exactly that.
His Approach to Care
Dr. Nicholson doesn't believe in "beating around the bush"-if he can get you well, he will! He and our entire team focuses on providing solutions for a number of musculoskeletal conditions, using research and proper diagnosis to achieve optimal results.
When you choose us for your care, you can rest easy knowing that we see you as much more than a number-your care plan will always be customized to you and your needs. We believe that you're unique, and so are your complaints-that's why we'll provide focused, specific adjustments and techniques at every visit.
EXPLORE OUR SERVICES »
Outside of the Practice
When he isn't in the practice, Dr. Nicholson loves spending time with his family and exploring all that Wentzville has to offer. He's also a professor at a local college, sharing his love of natural health and wellness with the next generation.
Dr. Matt Nicholson was so encouraging. He seem clinically well versed. He explained things in a very understandable manner.

I would absolutely recommend Dr. Nicholson.

Great experience! Expecting great results! Felt Dr. Nicholson Looked for the root of the problems and not just treating symptoms!

I like the energy Dr. Nicholson has.

I walked out of my first appointment feeling SO much better for the first time in a few months. Thank you, Dr. Nicholson!!

Matt is the man. Appreciate the education he provided. Will definitely recommend him to family and friends in need.

Dr Nicholson was fantastic! I had two visits and he fixed my problem. I really appreciate that he didn't try to "sell" ongoing visits but simply said to call him if I had future issues. Highly recommend him.

My jaw is feeling better already, and I was able to eat some solid food. Yay!!! I am diligently doing my jaw exercises. I feel very positive about a complete recovery. Thank you, Dr. Matt.

Dr. Matt is awesome! I felt heard and helped.
Schedule Your Visit
Our entire team would love the chance to get to know yourself and your family. If you'd like to learn more about natural chiropractic care and how our focused techniques may be able to positively improve your life, contact us today.
We look forward to welcoming you to our practice!

Dr. Matthew Nicholson | (636) 856-1260