Meet Baylee Reller, MCN, RDN, LD
Registered Dietitian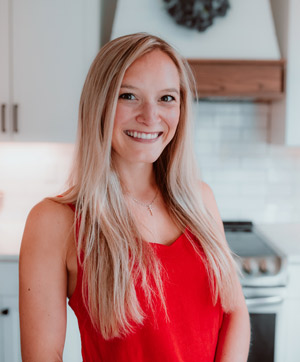 Baylee started on the path to becoming a dietitian when she was 18. It was then when she found out she had a dairy allergy. "Everything switched for me, and I became interested in nutrition. I got to see firsthand how nutrition affects everything in our life and how we are feeling every day."
She then started diving into nutrition and dietetics while in college, and Baylee also became passionate about helping people lose weight in a safe and sustainable way. "I was seeing so many people who were just doing diet after diet and feeling miserable with their life." Baylee doesn't want that to be the case. Instead, she wants people to lose weight safely, and do it in a way that's going to last for the long term.
To prepare for her career, Baylee earned a Bachelor's in Dietetics from Missouri State University and a Master's in Clinical Nutrition from the University of Iowa, where she also did her internship.
Offering Education & Counseling
Baylee is passionate about offering clients nutrition education alongside counseling. She feels that education will be the most important part of any situation.
"I never want to give people a list of things to do. Instead, I want to give them the why behind everything and teach them how their body works and what we can do to make changes that will work for, not only their disease state or for their goals, but also their lifestyle."
Baylee has a great deal of experience in helping clients with fat loss, weight management, and balancing blood sugar.
EXPLORE NUTRITION »

Outside the Practice
When she's not at the practice, Baylee enjoys taking walks outside. She also likes to travel on the weekends, kayak or just spend time at the lake. Patio dining at different restaurants is another favorite activity. "For being a dietitian, I actually hate cooking and keep meals super simple!"
Book an Appointment
Contact us today to schedule an appointment with Baylee!
Contact us today to find out how Baylee can help you.

Baylee Reller | (636) 978-5511