Meet Taylor Leonard, RD – Nutrition Services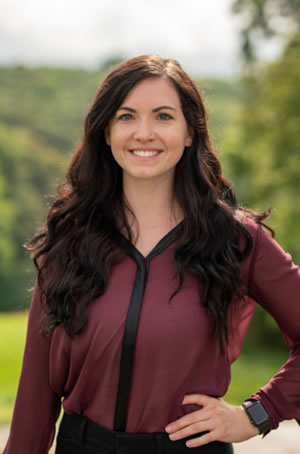 As a Registered Dietitian Nutritionist, my mission is to help end chronic dieting and make peace with food."
Taylor learned about what a dietitian was while working toward her associate's degree. "I was searching for what field interested me the most, and felt this one clicked for me." As she exercised and maintained a healthy lifestyle, becoming a dietitian was the ideal fit for her. As Taylor explored where to go to school, she decided to become a personal trainer, so she took some time off of school so she could attain her certification.
Education and Training
Taylor then attended Fontbonne University, where she earned her Bachelor of Science in Dietetics in 2019. While there, she got experience in the hospital setting and doing one-on-one personal training with clients. She helped many achieve their weight, health, and fitness goals.
After graduation, Taylor completed her dietetic internship with Southeast Missouri State University, where she completed several months of training and found her love for one-on-one nutrition counseling.
She also has the following certificates: Fitness Nutrition Specialist and Behavior Change Specialist.
Evidence-based Nutrition Counseling
Taylor works alongside her clients to create sustainable habits and reach their long-term goals. She believes all foods fit, and that you shouldn't have to cut out the foods you love to reach your goals. Some of her favorite topics include intuitive eating, debunking nutrition myths, healing relationships with food, and weight management.
Outside the Practice
In her personal time, Taylor enjoys spending time with her fiancé, Connor, and her dogs, Finnegan and Yoda. She loves being active by exercising, strength training, and walking her dogs. She enjoys reading, crafting, and is a self-proclaimed foodie who enjoys trying new restaurants around the St. Louis area, and cooking for friends and family.
Book an Appointment
Contact us today to schedule an appointment with Taylor!

Taylor Leonard, RD | (636) 978-5511