Meet Ken Madison, Yoga Instructor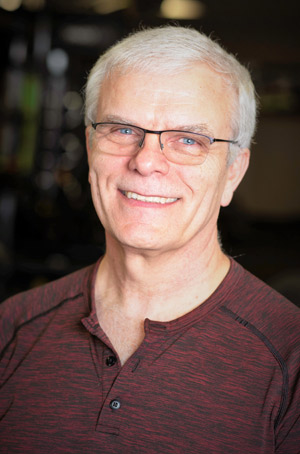 "Leaving the military after twenty years in great physical shape, I found that practicing martial arts filled the 'fitness void' I knew in the service. Shortly after an annual physical, my doctor called to tell me I had a heart condition and could no longer continue practicing at the intense levels martial arts demanded."
Working for a global credit card company as a data center network engineer, things got stressful on any given day. Without martial arts to "release" that tension, Ken became stiff in the upper body and needed some practical way to deal with it.
Discovering Yoga
Ken's wife attended a class at Jane's House of Well-Being one evening, and while waiting for her, he chatted with people attending yoga classes there. They took the time to answer his curiosity-based questions and invited him to try a few classes to experience yoga for himself. "It is based in the Hatha Yoga way, but is dynamic, with movement before stillness."
After about two weeks of classes, Ken noticed that he was loosening up. "The more I practiced, the more I was intrigued. But not only by the poses and how I was calmly instructed to do them, but how it made me feel about myself."
Training & Teaching
"Jane's offers Yoga Teacher Training for those who want to teach or know more about other aspects of yoga beyond postures. So I entered the 200-hour teacher training program for my yoga growth and graduated in 2017."
When a weekly class teaching opportunity was offered to Ken after graduation, he accepted and began teaching basic yoga at Jane's. Since then, he has taught yoga classes at Complete Fitness in Lake Saint Louis, Yoga at the Crossroads in Wentzville, Bee's Knees Yoga in O'Fallon, and Dudas Fitness in St Peters (virtual and in person during the pandemic). "As a teacher, I must understand in my body what I ask of the student, so I continue my practice as a student of other yoga teachers."
Ken's students are given the opportunity to re-discover themselves in a non-judgmental way by leaving the ego at the door, so they meet themselves "where they are" when practice begins.
"Come to a class with an open mind, experience a connection of mind, body, and breath, and start moving toward stability, balance, and inner stillness."
See You in Class
Sign up for a class with Ken today. Get started by signing up for the PushPress membership management app!

Ken Madison | (636) 978-5511