Meet Dr. Jake Schmitz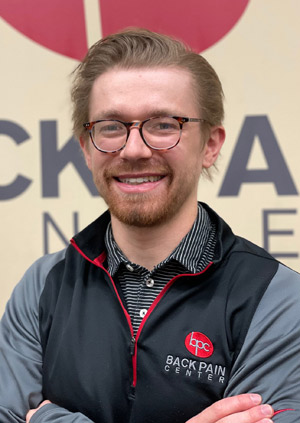 I've always had a passion and interest in health and the human body, Chiropractic was able to combine all the things I loved into a profession."
As Dr. Schmitz received multiple concussions playing football, he was motivated to learn how to manage and treat those also suffering from concussions.
Education and Professional Development
Dr. Schmitz graduated in 2020 from Logan University as a board certified Chiropractic Physician, while also earning his Master of Science in Sports Science & Rehabilitation simultaneously.
During Dr. Schmitz's time at Logan, he acquired over 700 hours of continuing education. The courses included joint manipulation, manual therapy, sports rehabilitation, neurology, and concussion care.
His passion for helping and educating others led him to tutor fellow students and participate in clubs. These included Motion Palpation Institute (MPI), Rehab2Performance (R2P), and Forward Thinking Chiropractic Alliance (FTCA).
Upon graduation, Dr. Schmitz received Logan University's Evidence-Informed Mission Award. The honor was bestowed upon him for his independent research regarding chiropractic's role in the treatment of concussions and his drive to progress the profession.
Offering an Array of Approaches
Dr. Schmitz uses a variety of treatments. These include
Joint manipulation
Trigger point dry needling
Directional preference (McKenzie Institute)
Soft tissue therapy
Dynamic Neuromuscular Stabilization (DNS) exercises
Providing Personalized Care Plans
Dr. Schmitz uses a case-by-case approach unique to each individual and their needs to create a treatment plan. He aims to not only eliminate pain, but to address the cause, educate, and teach his patients how to manage themselves.
"My goal is to help people become better than they were before. I also seek to maximize the human body's performance and educate people on the nature of their pain and how to treat themselves."
I like Dr. Jake's approach and treatment style, and I'm looking forward to working with him. I have already noticed a difference after the first visit! I've been seeing chiropractors since I was a child (chronic back issues), and my response has never been that good and I have never felt like I was truly "heard" before. Angela S.
In His Spare Time
While out of the office, Dr. Schmitz enjoys spending time with friends and family, as well as teaching youth rock climbers. His hobbies include hiking, climbing, weightlifting, and watching St. Louis sports. He also enjoys finding the newest coffee shop or brewery and staying up to date with the latest treatment protocols.
Contact us today to schedule an appointment with Dr. Schmitz!

Dr. Jake Schmitz | (636) 978-5511